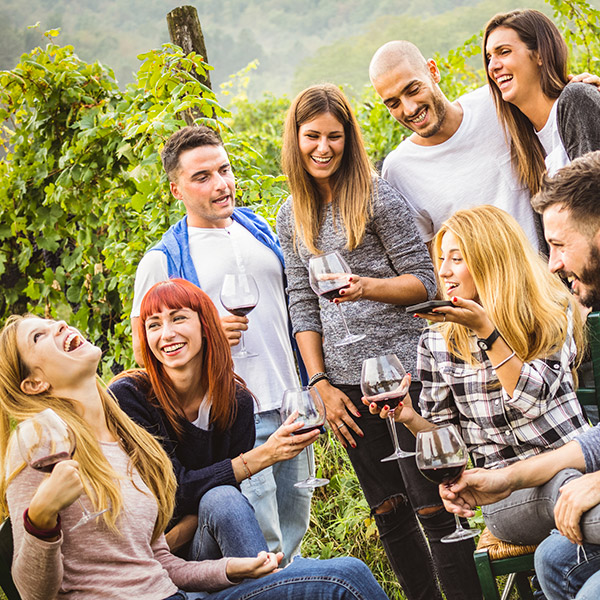 Occasional and exceptional
Gary's Curious Tasting & Travel Club gathers two or three times per month for tastings, tours and excursions. Events include encounters in special settings with sommeliers, winegrowers, artisans, chefs, bar owners, business owners, designers, chocolatiers, pastry makers, cheesemongers, chateau owners, specialized guides, etc.. We may also have special access to festivals and cultural events. (See schedule below.)
These are small-group events, typically for 4-8 participants, sometimes more. They attract travelers from abroad as well as residents of Paris, making for a wonderful mix of participants. All events are in English. All participants are asked to come with curiosity, conviviality and good cheer.
Some events are luxurious, some are simply excuses to enjoy good food and drink in good company, and some are delightfully quirky and off-the-beaten-track. All are organized in the spirit of discovery, enjoyment and good living.
When's the next event and how do I join?
Beyond the specific events indicated below, the best way to stay in informed about upcoming events is to write to me.
If you live in Paris, let me know what type of events and tastings particularly interest you.
If you'll be visiting Paris, tell me your travel dates and something about your travel party so that I can let you know if I have anything in the works for that time.
If you have your own pre-formed group of 4 or more, it may be possible to organize something for your group alone or as the basis for a larger group.
Upcoming event of Gary's Curious Travel and Tasting Club
March 13 (Wednesday), 6-9pm
Pinot Noir: Getting to Know You in Champagne and Burgundy
Two great bars, two great experts, one great grape. We'll be visiting two bars in our thirst for pinot noir this evening, first for a blanc de noirs champagne, then for 3 burgundies, followed by a final guess-it-if-you-can pinot noir. The evening includes cheese and charcuterie and, as always, great company.
Cost: 80€ per person, 65€ for club members*.
March 19 (Tuesday), 6:15-9:30/10pm
Organic-Not Organic
A neighborhood tour with several small tastings will lead us to a wine shop where we'll examine the difference between various types of wine production. An even of 4-5 wines, including cheese, charcuterie, risotto, dessert… and great company.
Cost: 85€ per person, 70€ for club members*.
March 28 (Thursday), 3:45-5:15pm
Chocolate, a way of life
Some call it teatime, but we call it chocolate time as we settle into our seats at a chocolate shop to enjoy the wide expression of chocolate, from the broad pleasures hot chocolate to the specific tastes of chocolate from various countries. A joyful 90-minute.
Cost: 38€ per person, 32€ for club members*.
April 4 (Thursday), 4-8pm
A designer's workshop and an off-beat wine tasting
We'll be heading into the 20th arrondissement to be welcomed into the workshop of a delightful French photographer-cum-designer. She'll speak about her career and present the different steps in her work in designing a line of imprinted textile bags (shoulder, clutch, bread, tote, vintage, etc.) and textile baskets. This is not a buying expedition, but you'll have the opportunity to purchase items for yourself or as great Francophile holiday gifts. This is also the opportunity to get to know a lesser-known neighborhood since this close encounter with the designer will be followed by an unusual wine tasting at a local hotspot. 75€ per person, 60€ for club members*. Limited to 8 participants.
April 13 (Saturday), 8:30am-7:30pm
Daytrip from Paris: War & Champagne (and an inexpensive way to stock up on bubbly if you live in Paris)
A daytrip to the around Chateau-Thierry, for a morning touring the American WWI sights and an afternoon visiting champagne producers in the area, with an excellent lunch in between. The WWI sights include Belleau Wood, the Aisne-Marne American Cemetery and The American Monument (aka Cote 204) of Chateau-Thierry. Champagne producers to be visited are in the Marne Valley growing area for champagne. The opportunity not only to learn about the champagne produced in this area but also to stock up for the holidays on reasonably priced bubble direct from the producer. The van driver will meet us in central Paris at 8:30AM. We'll be back into the city at 7:30PM. If you've purchased any number of bottles beyond what you can carry, we can arrange for the driver to deliver you to your door at a slight extra cost.
Maximum of 6 participants.
Cost for the daytrip, including transportation, lunch with wine/champagne, visits to champagne producers with tastings, 250€ per person. 225€ for club members*.
*A club member is someone who has toured with me privately or who has attended at least two other Curious Touring & Travel Club events.
To join write to gary [at] garysparistours.com or fill out the contact form below.
Prices typically range from 40€ to 225€ per person for events in Paris and from 250€ to 450€ per person for excursions, more for overnight trip. Prices are all inclusive unless otherwise noted in a given event description. Members of Gary's Tasting & Travel Club (i.e. those who have enjoyed at least two events) receive a discount of 5-10%, depending on the event.
Use this form to pre-book a tour or to request further information about specific tours, event planning and consulting services for Paris or elsewhere in France. The more you can tell me about your interests and your travel party, the better I can personalize a response.
Provide your phone number if you would like me to call you for a 5-10-minute no-obligation chat about your upcoming trip.